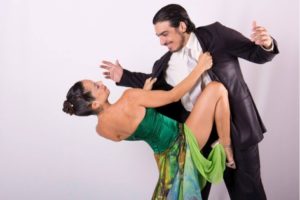 Born in Buenos Aires, Mariano Galeano is an Argentinean tango dancer, choreographer and teacher. He started to dance at 13 and his career already began at 14 when he discovered both stage and milonga universe.
Later on, he expanded his horizons with several disciplines such as modern and contemporary dancing, contact improvisation, classical ballet, partner techniques, fly low, drama, rock and roll, folklore, among others. He graduated from the National Universitary Institute of Arts in choregraphy, dance and theatre in 2004.
Over the years he developed a very personal, versatile and unique style which all types of audiences can enjoy. You may see him dancing the most elegant and classical salon tango or delivering fantastic performances of modern, breathtaking stage tango, filled with contrasts, with incredible speed, technique and energy.
It is worth mentioning some of his features as a tango teacher: his personalized, dynamic, patient, simple and graceful way of teaching enables learners of all ages and levels to understand,  absorb and expand their knowledge of tango.
Performer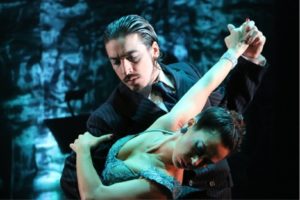 Mariano Galeano has delighted audiences all over his country on stages such as The Luna Park Stadium, and The National Tango Summit meeting in the UN to name a few. He enjoys great recognition of his talent, with invitations such as to dance in the very first Club Almagro Great Milongueros Night in 1997, or to the tribute organized for tango legends Angels D'Agostino and Vargas in 2002.
He also performed on national and private channels on television, and in the most remarkable theaters in Buenos Aires such as Teatro Gral San Martín, Nacional Cervantes, Metropolitan 1, Astor Piazzola Auditorium and in famous tanguerías (tango houses) such as Café Tortoni, El Club del Vino, Esq. Osvaldo Pugliese, Casa Anibal Troilo, Palais de Glace, Esquina Homero Manzi, Tango Palace and La Rural, Che Tango and many others.
He has  danced with several well-known orchestras, among them Color Tango, Los Reyes del Tango, Sans Souci, El arranque, Los Cosos de al Lao, Sexteto Cayengue, Sexteto Veritango de Alfredo Marccuchi, La orq. Típica Férnandez Fierro, Setexto Milonguero, Los solistas de D'arienzo.
He has been dancing on european top stages with the companies Otango (since 2005), Romeo et Juliette (since 2019), and Tanguissimo (since 2018).
He has also been performing regularly since years at the  Royal Caribbean Celebrity Infinity, Crystal and Azura de Japon cruise ships (since 2009).
Nationally and internationally, over the years he has been present in many festivals, exhibitions, classes and seminars in different cities in Argentina, Colombia, Venezuela, Uruguay, USA, Italy, Holland, Belgium, France, Israel, Turkey, Tunis, Cyprus, Greece, Portugal, Lithuania, Slovenia, Sweden, Austria, Russia, Germany, England, Korea, Poland and Iceland. He also is a co-organizer in the charity festivals Tango por los Chicos in Hertogenbosch and in the Biezenmortel festival in Holland.
Director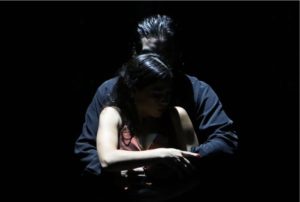 Mariano started his own Tango Show company, Tangauchos, as the main director, with now more than 20 years of existence.
As a  producer, director and choreographer of shows in Argentina and in Europe, his most important work follows below :
Tango… Sensual e Imbatible with 32 artists on stage, 14 musicians live in a tango, rock and roll, and folklore show.
Tangauchos : tango and folklore show, 20 artists on stage, working for 6 years in the ships of Royal Caribbean, during the shows in Argentina and Uruguay.
Chapado a la Antigua : tango show with the orquestra Sexteto Meridional.
Jury
His remarkable talent, technique and recognition in the tango world has granted him positions as jury in several events, such as  jury in the first World Championship Argentinean Tango as well as the Torneo Metropolitano, Torneo Bonaerense and Pre-Cosquin.
Maestro

Despite his busy and successful career as a performer and a choreographer, he is nonetheless completely dedicated to teaching. Recognizing the importance of sharing his accumulated and priceless knowledge, the maestro Mariano Galeano maintained a Tango School in Buenos Aires for 3 years before he relocated it in Belgium : MG Tango, with classes and activities in various cities. His commitment to his students is demonstrated by both his seminar approach in teaching, and his regular classes, to ensure students have enough time to absorb and practice his teachings.
He also is invited to teach weekly in the European Commission since 2018.